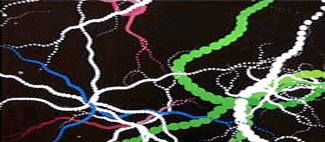 A book on Digital Art that informs on historical postitions as well as on contemporary artists of the different sections in Digital Art: NetArt, SoftwareArt, installations, graphics 3D etc . It includes essays of Tilman Baumgärtel, Hans Dehlinger, Wulf Herzogenrath, Susanne Jascko, Susanne Maßmann, Manfred Mohr, Frieder Nake, Domenico Quaranta, Mark Tribe, Mitchell Whitelaw. The English version will be available in July. There will be a hardcover in a bigger size including a CD.

Author: Wolf Lieser
h.f. ullmann / Tandem Verlag 2009; 285 pages; 17 x 15,3 cm
Price: 9,95 Euro
Edition: 4000
Fluid Architectures
Opening 29 May 18:30 hrs
From 30-05-2009 until 16-08-2009
Annja Krautgasser, Walter Langelaar, Jan Robert Leegte, Dirk Lüsebrink/Joachim Sauter, Mader Stublic Wiermann, Michael Najjar, Mark Napier, Marnix de Nijs, Stanza, Pablo Valbuena

In the movie Metropolis from 1926, director Fritz Lang created the vision of a futuristic 21st century mega-city. Now that we have crossed the threshold of this century our reality makes that vision seem strangely old-fashioned as new sets of factors unconsidered by Lang move to shape the future of our urban spaces. It is now ubiquitous computer networks, information delivery in real time and new display technologies which are the key elements transforming the face of our urban living spaces. Through them a space is taking shape whose manifestations merge the virtual and the physical. Essayist Florian Rötzer talks in this context of a 'digital urbanism' whose salient features are 'dispersal, decentralisation, valorisation of interiority, globalisation, individuality and mobility'.
These factors shape a networked society and a 'space of flows' which generate new dimensions for imagination and action no longer concurrent with the old geographies and topographies.

The exhibition Fluid Architectures gathers spaces of flow and immateriality created by artists in response to these contemporary notions the city. These fictional spaces made of light, moving image, and other media extend the idea of physical architecture to the construction of dynamic and seemingly infinite spaces enabling a sensory experience. The works rethink the classic standards of spatial construction and topography. Rather they introduce the new concept of 'performative architecture' and thus propose an imaginary urban landscape for the 21st century. The Fluid Architectures programme comprises a gallery exhibition, lectures and workshops. The exhibition is curated by Susanne Jaschko.

Artists and works
For Fluid Architectures new site-specific works have created by Walter Langelaar, Jan Robert Leegte and Pablo Valbuena.

Annja Krautgasser (A), Dashed II, installation, 2005 www.annjakrautgasser.net
Walter Langelaar (NL), paralevel | OA_NIMK2 , modified videogame software, projection, 2009 (commission) http://lowstandart.net
Jan Robert Leegte (NL), Ornament (Amsterdam), computer projection, 2009 (commission) www.leegte.org
Dirk Lüsebrink/Joachim Sauter (D), Invisible Shapes of Things Past - Shanghai,, film-based sculptures and 2D and 3D print, video, 1996/2006 www.artcom.de
Mader Stublic Wiermann (D), folded space and twists and turns, documentation of video installation, 2008 www.webblick.de
Michael Najjar (D), the invisible city, video, loop, 2004www.michaelnajjar.com
Mark Napier (USA), Smoke, custom software, computer, projection and Cyclops Birth I + IV, inkjet on paper, 2007 www.potatoland.org
Marnix de Nijs (NL), Exploded Views – Remapping Firenze, multi media installation, 2008 (produced within NIMk's artist in residence programme, co-produced by Centro di Cultura Contemporanea Strozzina, Florence) www.marnixdenijs.nl
Stanza (UK), Urban Generation, net art, software, real time city experience, 2005 www.stanza.co.uk
Pablo Valbuena (E), Extension series architecture and projection, 2009 (commission) www.pablovalbuena.com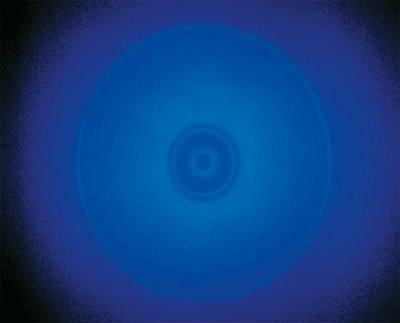 «The Fractal Flowers presented at iMAL are part of a process initiated by Miguel Chevalier at the beginning of this decade under the title Other Natures. These works start from the observation of the plant kingdom, and its transposition within a digital universe.

As Lev Manovich has underlined, the distinctive characteristic of the digital work is to be based on a code, susceptible to differ from interpretation according to the given software. This principle of variability is amply illustrated by the Fractal Flowers exhibition at iMAL: the same data are used to produce interactive animations, printed images, or even three-dimensional forms, veritable "digital sculptures" obtained by stereolithography.

Beyond their aesthetic and playful qualities, the Fractal Flowers question both the status of the work of art in the digital era and, on a more poetical and metaphorical way, the stakes involved in genetic manipulation. Nothing can predict what these "fractal flowers" might produce, as they are infinitely free to hybridize and reproduce.»

Excerpt of the catalog written by Pierre-Yves Desaive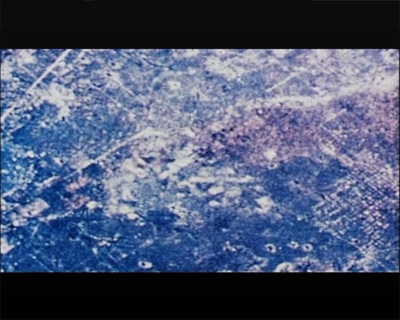 The new Ars Electronica Center shifts new themes into the spotlight. Fields in which the most massive and controversial innovative thrust is in the process of emerging now: the so-called life sciences, a field subsuming biotechnology, genetic engineering and the neurosciences. Essential to this entire endeavor are imaging procedures that enable us to peer into domains far beyond what we're able to see with our own eyes. In other words, this has to do with new views of humankind. Images that get under your skin because they reveal what used to be hidden deep inside us, and bring to light insights that are changing our worldview and our picture of the human being. The new Ars Electronica Center enables us to realize that what human beings have always found most fascinating has been themselves—a fascination that has also exerted a spellbinding attraction on art and science, two varieties of one and the same striving for the truth about our world and ourselves.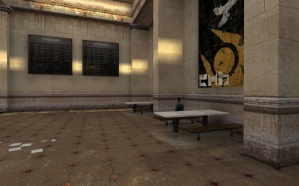 HYPERLUCID
Training to live in a new reality

Curated by: Domenico Quaranta

For: Prague Biennale 4
Karlin Hall, Thamova 8 - Praga 8
May 14 - July 26, 2009
Directors and General Curators: Helena Kontova and Giancarlo Politi
General Editor / Curatorial Advisor: Nicola Trezzi

Artists: Alterazioni Video; Gazira Babeli; Shane Hope; Miltos Manetas; Gerhard Mantz; Eva and Franco Mattes; UBERMORGEN.COM; Damon Zucconi.

CONCEPT. Reality is not the one we were used to anymore. Media infiltrate it more and more, and fill up our dreams, which usually come when our eyes are open. Wide open. In the frame of ÒExpanded PaintingÓ, H Y P E R L U C I D is an exhibition collecting works born on the invisible edge between two different levels of reality (apparent reality and media reality), and documenting the continuous trespassing from one level to the other. The walls in between are more and more porous, and sometimes even the more lucid gaze can't help but wonder which level of reality it is looking at in a particular moment. All of us had this feeling, in front of 9/11 pictures. Media don't produce simulacra anymore: they produce events, history, life. They overwhelm us with icons, brands, pixellated images of tortures, wars, outrages. The hardest fight happens there. They help us to construct new levels of reality, both abstract and hyperreal, and to get used to them. Finally, videogames are the places of our training: there, through more and more complex social and narrative dynamics, and through a photorealism which even overcomes our playing needs, we forget how to recognize simulation, and we exercise our brain for the next step: the one in which, between tangible reality, simulated reality and media reality there are no barriers anymore, but only the sheets, translucent and easy to pass through, of a chinese shadows theater. We took the last train to the world of Perky Pat, and there is no way to come back. H Y P E R L U C I D doesn't collects paintings. Here, painting is not a medium, but a cultural frame, a context of reference for the new generation of the image makers. Alterazioni Video, Gazira Babeli, Shane Hope, Miltos Manetas, Gerhard Mantz, Eva and Franco Mattes, UBERMORGEN.COM and Damon Zucconi, no longer paint: they shoot, they manipulate, they code, they make scripts, sometimes they fight with other virtual characters. Yet, in the end, they produce images.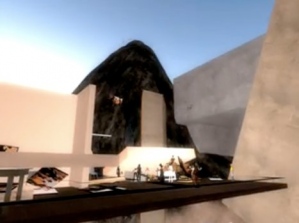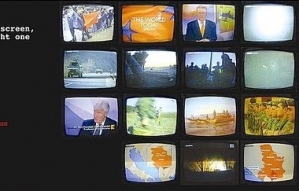 The Internet as Art
In the digital age, the medium is the new message.
By Goran Mijuk

Next time an error message pops up on your computer screen or if your machine succumbs to a software virus, it may be more than just an annoying glitch. It may be a work of art.

Just as video and computer technology attracted pioneering artists in the 1960s and 1970s, the Internet today is inspiring artists to tinker with the possibilities and boundaries of the World Wide Web. What started as a playful and often tongue-in-cheek experimental venture by a few code-savvy artists in the early 1990s has grown into a global art movement that is attracting attention from museums and private collectors. Karlsruhe-based media museum Zentrum fuer Kunst und Medientechnologie, or ZKM, has been running a series of net.art exhibitions. .....

Read the complete article: http://online.wsj.com/article/SB10001424052970204619004574318373312061230.html
Human Nature

The Reinvention of Nature

We are entering a new age here on Earth: the Anthropocene. An age definitively characterized by humankind's massive and irreversible influences on our home planet. Population explosion, climate change, the poisoning of the environment and our venturing into outer space have been the most striking symbols of this development so far.

But to a much more enormous extent, the achievements of genetic engineering and biotechnology are the truly indicative markers of this transition to a new epoch. Now, we're not only changing our environment; we're revising the fundamentals of life itself—even our own human life.

Humankind has appropriated the mantle of Creator. Though we just barely understand how this functions, we're already modifying entire genomes, constructing new organisms, cloning, creating and inventing new life.

We're using innovative high-tech methods to observe the human brain while it thinks, so that we can now look behind the veil of our consciousness and see how our mechanisms of perception and decision-making capacities are reflected in our neurons. The long-established boundaries segregating nature and culture are breaking down, and we are once again confronted by the question of the essence of humanness and the nature of the human being. ....

read more: http://www.aec.at/humannature/en/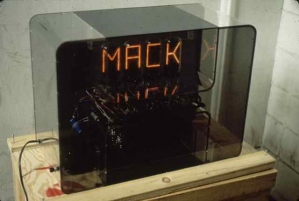 Kunsthalle Bremen and Weserburg, Museum of Modern Art, Bremen, present:

NORMAN WHITE
we fix toasters

Norman White
award winner of the 3rd d.velop digital art award [ddaa] 2008 of the Digital Art Museum [DAM] Berlin

Exhibition: 18 September - 8 November 2009
Preview: Friday, 18 September 2009, 7 pm

Norman White is one of the pioneers of electronic and interactive art. The retrospective shows his humorous machines - machines, seeming to have a life of their own and confronting the viewer in an often unexpected and surprising way.
His most well known art work is the Helpless Robot, that initially kindly asks the viewer for help and then turns out to be of a dictatorial character.
Since the middle of the 1960s the Canadian Norman White (*1938) develops electronic, since 1976 also digital, machines, which are programmed in such a way that unforeseen forms and reactions are supposed to evolve. Since the 1980s he concentrated on robotics and launched the Sumo-Robot-Challenges in Toronto which take place regularly since the 1980s.
.
Norman White describes himself humorously as an "expert in doing things in the wrong way"; he is not interested in achieving a completed object, but in processes, astonishing developments, "independent" machines. In his works the smallest robots are winning the challenges, he initiated a noisy sexual act performed by robots or lets a mechanical eye suddenly appear in a painting to gaze at the viewer.
White recycles obsolete machines, like Nam June Paik has done at the same time, and therefore, you can often find objects that he modified several times, until the single components were beyond repair. Norman White prefers to let the audience encounter his artworks in places where art is not normally expected, outside of museums and galleries. From the 1970s White has conciously not participated at the art business. He became known as a teacher of a generation of important Canadian new media artists.

"If science can learn anything from art at all, it should be searching for it in this œuvre and this artistic attitude." Anne-Marie Duguet, Exhibition Catalogue "Norman White. we fix toasters", 2009

Under the patronage of Klaus Wowereit, Governing Mayor of Berlin, the d.velop digital art award [ddaa] is awarded by the Digital Art Museum [DAM] for the 3rd time. The prize remunerates the lifetime œuvre of a pioneer in Digital Art. He was handed over at the art fair Art Forum in Berlin in 2008. In addition to the price money the laureate has an exhibition at the Kunsthalle Bremen accompanied by a catalogue.

Due to construction works at the Kunsthalle Bremen the exhibition will take place at the Weserburg, Museum of Modern Art, Bremen, this year. 14 electronic art works will be shown as well as numerous documentations of other works, performances and actions.

Weserburg, Museum für Moderne Kunst, Teerhof 20, D-28199 Bremen, Germany
Phone: 0421 - 59839-0, mail@weserburg.de, www.weserburg.de
Link for the exhibition: http://www.weserburg.de/index.php?id=377&L=1&id=377
Landscape 2.0

An exhibition on the reality and the artificiality of the landscape

28. August – 15. November 2009

A joint project of the Edith Ruß Site for Media Art (Oldenburg) and the Kunstverein Springhornhof (Neuenkirchen near Soltau)

How do we perceive landscapes? As real and preferably undisturbed nature? As a real but totally constructed reality or as a digital fantasy world? What can and should the landscape accomplish today? And what visions are there about its future?
The exhibition Landscape 2.0 juxtaposes romantic yearnings and emotions with the demands of a modern globalised world and its guiding principles. It concerns a contemporary exploration of the subject matter of the landscape and its importance in the present day.
The significance of the landscape is permanently subject to an historic transformation that is influenced by social, ideological and technical changes.
Landscape as an artistic representation was simultaneously always an inventory of the respective discourse regarding nature and its importance in peoples' lives.
A new relationship to our surroundings has resulted from the increasing virtualisation of our world. Now that it has become navigable, predictable and thus manipulable in various ways, the shaped and constructed landscape functions like a catalogue of interpretations of nature, of society, of the economy or culture.
The artists participating in the exhibition have developed various strategies of dealing with this complex subject matter.
Vaughn Bell, Wapke Feenstra, David Hahlbrock and Ursula Damm have taken a look back at historic developments and the effects they have had on present-day landscape structures.
Beate Gütschow references traditional portrayals of the landscape.
Susan Collins reflects upon the changes in our landscape resulting from technological and global developments. Ulu Braun and Thiago Rocha Pitta have developed utopian ideas and concepts regarding sustainable landscape planning in the future.
Janice Kerbel, Jane Prophet, Rachel Reupke and Monica Studer/Christoph van den Berg have produced digital venues and model worlds. Katrin Sigurdardottir's installation deals with the relationship between body, sight and perspective in virtual landscapes.
Practices of life and the measuring of landscape spaces by means of modern technologies and their translation into aesthetic and acoustic information (GPS, Google Maps) are the themes dealt with in the works of Brett Stalbaum/Cicero DaSilva/walkingtools.net, the Büro für Unabwägbarkeiten, Masaki Fujihata, Teri Rueb and Thomson & Craighead who make data regarding landscapes audible and tangible.

Website of the exhibition: http://www.edith-russ-haus.de/index.php/Programm/Programm?userlang=en

Picture: Monica Studer / Christoph van den Berg: Nebel, Screenshot from interactive Computer-Installation, 2005, © Studer / van den Berg
Text: Edith-Russ-Haus für Medienkunst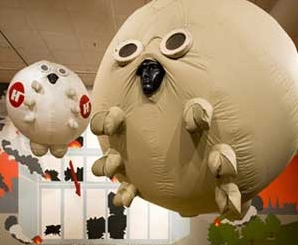 HALLIBURTON SURVIVABALLS

24 September - 29 November
Location: FACT Liverpool, UK, Flying Sculpture Hall

The Yes Men practice what they call 'Identity correction' by posing as spokespersons for prominent organisations. They create spoof websites and make subversive appearances in conferences and TV shows. Two of The Yes Men's Halliburton SurvivaBalls - mock survival suits designed to protect corporate managers from natural disasters - have been commissioned for FACT to coincide with "Keep It Slick", an exhibition at LJMU Art & Design Academy Liverpool.

Keep it Slick: Infiltrating Capitalism with the Yes Men
25 September – 25 October 2009
AND Festival will present the very first UK solo exhibition of one of the most important political artists in the last years. The show will also involve opportunities for interaction with The Yes Men themselves.
"Over the past decade The Yes Men have fearlessly taken on the world's biggest corporations and bureaucracies. Infiltrating the elite realm of the influential and the moneyed, cloaked in the sheerest layer of authority–thrift-store suits, quick-print business cards, forged press releases–these social activators urge us to question where ethics belong in our capitalist-driven society." - Curator, Astria Suparak

This part of the AND Festival programme is created in collaboration with Liverpool John Moores University, and curated by Astria Suparak, director of Carnegie Mellon University's Miller Gallery, Pittsburgh.

Websites: http://www.fact.co.uk/whatson/detail/?group=3&infoID=798475903297491242 and http://www.artinliverpool.com/index.php/maingalleries/jmu-the-academy/2371-jmu-the-yes-man

Text: FACT Liverpool and LJMU Liverpool
Picture: Halliburton Survival Ball, courtesy of Tom Little Photography, 2009
MEDIATECA EXPANDIDA. ARCADIA

Exhibition: 2. October - 7. December 2009 at LABoral, Gijon, Spain

"Toys are not really as innocent as they look. Toys and games are the preludes to serious ideas".
Charles Eames

Over the last ten years, the art world, academia and industry have been deploying a whole plethora of initiatives aimed at securing the status of the videogame as a medium in its own right and defending the potential of gaming as a creative strategy. LABoral has made a notable contribution to this process with its trilogy of exhibitions titled Gameworld, Playware and Homo Ludens Ludens, perhaps the most exhaustive exploration of the theme to date by any cultural institution.

Now that artists' interest in the videogame no longer raises eyebrows; now that many universities have Game Studies departments and the Independent Games movement is finding its own space and public, what are the new horizons for the game as language and as industry?

ARCADIA: Games from a Culture of Innovation is posited as an observatory to explore the main lines of investigation undertaken today in the various fields of contemporary game culture; from the design of toys and games to the independent development of videogames, not overlooking game art and so-called 'serious games'.

The thirty plus projects selected for the exhibition, most of which have been produced over the last three years, are examples of an emerging sensibility that oversteps our preconceived ideas on the function and form of games.

New genres like "slow games" by Tale of Tales, that eschew adrenaline and instead look to submerge us in all-enveloping atmospheres; studios and designers like Jason Rohrer and Thatgamecompany, whose emotional and disturbing games are located beyond the adolescent imaginary of commercial videogames; sensual anti-narrative experiences like the exceptional Eliss by Steph Thirion... and games that comment and editorialise on contemporary social, political and environmental crises.

Stretching beyond the confines of software, Arcadia also explores areas like the design of products and gadgets, the toy and self-construction culture, and game hacking.

ARCADIA is the first project to be presented at MEDIATECA EXPANDIDA, a new space at LABoral conceived to experiment with new presentation formats that foster sociability and go beyond the limits of the conventional exhibition.

Curated by: José Luis de Vicente

Projects:
2D BOY: World of Goo
Abelardo Gil-Fournier: The Croopier
Bandai: Tutukki Bako
Bill Viola / USC Game Innovation Lab: The Night Journey
Copenhaguen Game Collective: Face Off in the Magic Circle
Crispin Jones: Tengu
Erik Loyer: Ruben and Lullaby
Erik Svedang: Blueberry Garden
Ethan Kennerly: Civilization IV: Quality of Life
Hayes Raffle, Amanda Parkes: Topobo
Hoberman Associates: Boom-o-Ring, Brain Twist, Hoberman Sphere, Switch Pitch, Tulu Rattle
Ian Bogost: Jetset: a Game for Airports
Ian Bogost: Killer Flu
Impact Games: Play the News
Jason Rohrer: Passage
Jun Fujiki & Sony Japan Studio: OLE coordinate System + Echochrome
Keita Takahashi: Noby Noby Boy
Media Molecule: LittleBigPlanet
Microsoft Research: Kodu
Petri Purho: Crayon Physics Deluxe
Plastic: Linger in Shadows
Secret Exit: Zen Bound
Serious Games Interactive: Global Conflicts: Latin America, Global Conflicts: Palestine
Snug and Outdoor: Snug Kit
Steph Thirion: Eliss
Take Action: Games In The Balance
Tale of Tales: The Graveyard, The Path
thatgamecompany: Flower
York Zimmermann Inc.: A Force More Powerful

Website of the exhibition: http://www.laboralcentrodearte.org/en/582-mediateca-expandida-arcadia
Text: LABoral
Image: Tale of Tales, The Path ©Tale of Tales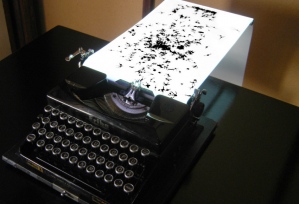 Life Writer
Christa Sommerer / Laurent Mignonneau

Exhibition: 09.09.2009 - 31.10.2009 at KinoKino - Art and Film Center, Sanders, Norway

Life Writer – the interactive artwork by the Austrian artist duo Christa Sommerer and Laurent Mignonneau is shown in the exhibition space between the two cinema screening rooms on the underground floor.

Life Writer consists of an old-style typewriter that evokes the area of analogue text processing. In addition a normal piece of paper is used as projection screen and the position of the projection is always matched with the position of the typewriter roll. When users type text into the keys of the typewriter, the resulting letters appear as projected characters on the normal paper. When users then push the carriage return, the letters on screen transform into small black and white artificial life creatures that appear to float on the paper of the typewriter itself. The creatures are based on genetic algorithms where text is used as the genetic code that determines the behaviors and movements of the creatures.

The creatures are programmed with genetic algorithms, so they are semi-autonomous and follow their own internal rules of metabolization and reproduction. The whole process of writing text through on Life Writer has becomes a process of giving life to thoughts and having thoughts themselves evolve, escape and reconfigure.

Life Writer is an extraordinary project, not only in the application of new technologies to sculptural form and in combining old and new technology through a media archaeological interface; it's also an example of an art form, in which interactive art begins to evolve towards a «living art» in itself.

Mignonneau's and Sommerer's creation and manipulation of fascinating visual images in an interactive environment where participants also engage in the act of creation raises fundamental questions about human interaction with increasingly «intelligent» machines and possible levels of human-machine symbiosis.

Website: http://www.kinokino.no/kinokino/public/openIndex?ARTICLE_ID=102&EVENT_ID=19
Text: KinoKino
Image: Christa Sommerer + Laurent Mignonneau, Life Writer ©Sommerer/Mignonneau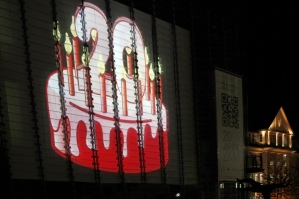 IMAGINING MEDIA@ZKM
ZKM | Media Museum, Karlsruhe, Germany

Exhibition: 10 October - 31 December 2009

For its twentieth anniversary, the ZKM | Center for Media and Art Karlsruhe will present, its best artistic productions in a lavishly planned review beginning on 10 October 2009.
As a digital Bauhaus and media laboratory with artistic and scientific research, productions, and presentations, ZKM Karlsruhe has answered the rapid developments in communication and information technologies and related social transformations since its founding in 1989.
In its research institutes, more than 500 visiting artists from around the world have produced a great number of highly regarded works, which following their presentation in Karlsruhe, have been honored worldwide in biennales, festivals, and exhibitions thereby decisively contributing to shaping the face of media art for two decades. Through the continuous absorption of these works in the ZKM collection, started in the early 1990s by founding director Heinrich Klotz, Karlsruhe now has one of the most important collections of international media art.

What could be more appropriate for the anniversary of the politically and culturally far sighted founding of the ZKM than presenting its highly regarded productions in a major review and accompanying performances. In this way, the exhibition to open in October 2009, IMAGINING MEDIA@ZKM aims at no less than reconstructing the international development of media art based on the best productions from the ZKM.
Whereas the ZKM, as an avant-garde laboratory was able to hand over innovative hardware and software for the professional development of artistic works, at the same time, the survival of the works created by its visiting artists are endangered by precisely this rapid progress. Interactive media works, especially, are affected by rapid changes in data architecture, carrying media, and electronic equipment, as their media quality rests on the perfect meshing of software and hardware at the human-machine interface.

Since compelling technological reasons make it impossible to defer the preservation of media art to future generations, the project IMAGINING MEDIA@ZKM has a two-fold task: for one, the best works from ZKM_Production will be reconstructed and made permanently accessible to a broad public in the exhibition IMAGINING MEDIA@ZKM. For another, the methods that allow us to make these works available for future audiences will be analyzed and specified together with the most highly competent international partners in an international conference held at ZKM in October 2009.

Website of the exhibition: http://on1.zkm.de/zkm/stories/storyReader$6551
Text: ZKM
Image: ONUK ©ZKM
Decode: Digital Design Sensations showcases the pieces in digital and interactive design, from small, screen-based, graphics to large-scale interactive installations. The exhibition includes works by established international artists and designers such as Daniel Brown, Golan Levin, Daniel Rozin, Troika and Karsten Schmidt. The exhibition features both existing works and new commissions created especially for the exhibition.

Decode is a collaboration between the V&A and onedotzero, a contemporary arts organisation operating internationally with a remit to promote innovation across all forms of moving image and interactive arts.

The exhibition explores three themes: Code presents pieces that use computer code to create new works and looks at how code can be programmed to create constantly fluid and ever-changing works. Interactivity looks at works that are directly influenced by the viewer. Visitors will be invited to interact with and contribute to the development of the exhibits. Network focuses on works that comment on and utilise the digital traces left behind by everyday communications and looks at how advanced technologies and the internet have enabled new types of social interaction and mediums of self-expression.

Decode will be on display in The Porter Gallery. Exhibits can also be found on the V&A Exhibition Road façade, in the Grand Entrance, John Madejski Garden and South Kensington tunnel, at the bottom of the stairs to the National Art Library (Staircase L), as well as in the Science Museum.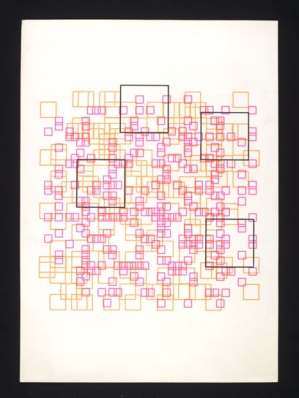 Digital Pioneers

7 December 2009 - 20 June 2010
Julie & Robert Breckman Prints and Drawings Gallery, Room 90 and Paintings, Room 88a
Free admission

This display provides an overview of the first decades of the computer's history in art and design. It includes some of the earliest computer-generated works in the V&A's collections, many of which have never been exhibited in the UK before. From the 1960s until the early 1980s, digital pioneers worked directly with computer hardware and software to produce graphic images unlike anything that had gone before. Some artists went on to use increasingly sophisticated software packages, while others continued to work directly with the hardware itself.

The display includes plotter drawings, screenprints, digital inkjet prints, photographs and animations, as well as important documentary material from the time. It features pioneers working in science and industry during the 1950s and 60s, such as Frieder Nake, Georg Nees and Herbert W. Franke. Artists who worked with the computer in the 1970s and 80s include Paul Brown, Harold Cohen, Manfred Mohr and Vera Molnar. The show also encompasses more recent works by James Faure Walker, Jean Pierre-Hébert, Roman Verostko and Mark Wilson

Digital Pioneers offers a historical context for contemporary digital practice, and is scheduled to
coincide with the V&A exhibition Decode: Digital Design Sensations.
Venus 2.0
Mark Napier

Exhibition: 5th December 2009 – 27th January 2010

'Venus 2.0' consists of software written by the artist that collects images of the body parts of Pamela Anderson, an erotic icon of our time, from the hundreds of pictures of her available on the Internet and recreates a mobile, three-dimensional figure out of these flat, fragmentary pictures. A sculpture of Venus composed of the "raw materials" of our time: data and information. In this way, Mark Napier reflects on our perceptions of images in this Internet age, on network structures and on the Internet's influence on our lives.
Mark Napier (b. 1961, USA) is one of the best-known Net artists and has created Net art works for the Whitney Museum of American Art, Guggenheim Foundation and San Francisco Museum of Modern Art, among others. His early works are regarded as Net art classics.

Every era in history has produced its own portrayal of "Venus", the symbol of feminine beauty, using the formal language and materials contemporary to it. The Internet, a new medium for boundless communication, defines our era and has already fundamentally transformed the way we live together. Pamela Anderson has 'grown up' along with the rapid growth of the Internet. Starting out as an amateur erotic actress before becoming a fixture in the sphere of modern sex icons, her career has progressed in parallel to the Net's own explosive expansion. Her attitude towards the shaping of her body through cosmetic surgery is also symptomatic of our age. According to the Guinness Book of Records, she's the most frequently mentioned woman on the Internet.

Mark Napier chose Pamela Anderson as the focus of his new series precisely because of her celebrity on the Web and embodiment of a contemporary ideal of beauty. These works are about reproductions of images of the body in digital networks and their effect on our ideas of the aesthetic. Mark Napier regards the Net as a new space and his works frequently interrogate its nature and rules. In 'Venus 2.0' he recreates a body out of the medium itself. It's the Internet's influence on the aesthetics of body image that interests him: cosmetic surgery plays only a secondary role.
"Ultimately, media shapes our existence much more than surgery. This work is not about the
specifics of plastic surgery, but the larger impact of media on our perception of and representation of our own bodies."
Mark Napier in an interview with Susanne Massmann, 2009