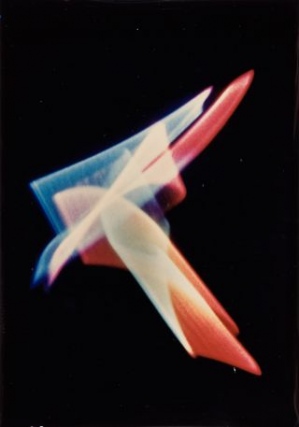 The Virtual Essence of the Image. Early Computer Art from the Clarissa Collection

Sprengel-Museum, Kurt-Schwitters-Platz, 30169 Hannover, Germany
Opening hours: Tuesdays: 10 am – 8 pm / Wednesday – Sunday: 10 am – 6 pm

Exhibtion: 09. December 2009 – 07. March 2010

The Clarissa collection was one of the first to concern itself with computer-generated art in Germany, perhaps even in the world. Käthe Schröder, who used to run a gallery in the Plathnerstrasse in Hannover devoted to photography, started collecting computer art in the 1960s, which was, then, a largely unknown field. When she had to close the gallery in 1968, she kindly donated her collection to the city of Hannover. For a number of years, these pages of computer graphics languished, neglected, in a box. They were then re-discovered and examined by experts in the field and will now, finally, be presented to the public.

Computer art reached its pinnacle in the 1960s. This collection consists of pieces that were realised using a computer, either with an analogue, digital or a hybrid calculating system. A significant area for using this art is in 'computer graphics' where images were generated through one of the types of calculation mentioned and, using an automatic drafting mechanism, put to paper. They left an indelible impression early on and typify exhibitions of computer art.

In the 1960s and 70s, computer art was coupled with other disciplines, such as electronic music, computer sculpture and animation, as well as video art. This affected the development of what was later to be known as Net Art. It offered options for utilising experimental and artistic approaches and techniques on a computer, which played a crucial role during this formative period. Computer art also encompasses other forms of artistic expression, such as installations using monitors, projected images and images of computers themselves.

This exhibition at the Sprengel Museum Hannover includes works by Otto Beckmann, Herbert W. Franke, Leon D. Harmon, A. Michael Noll, Georg Ness, Frieder Nake, Leslie Mezei, Kenneth C. Knowlton and the Computer Technique Group (CTG), providing a glimpse of the pioneer era of computer art. It shows an important selection of research conducted in this often overlooked field.

Website of the exhibition: http://www.sprengel-museum.com/exhibitions/the-virtual-essence-of-the-image-early-computer-art-from-the-clarissa-collection.htm?snr=1

Image: Ben Laposky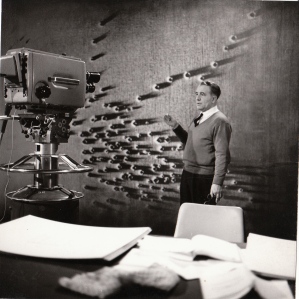 Bense and the Arts

ZKM | Media Museum, Project Space, Lorenzstraße 19, 76135 Karlsruhe, Germany
Opening hours: Wed-Fri 10am-6pm / Sat-Sun 11am-6pm

Exhibition: 7th February - 11th April 2010

For the 100th birthday of the philosopher Max Bense, ZKM will present an exhibition showing his international impact on the fine arts and literature, which can be compared to that of Umberto Eco and Marshall McLuhan. The exhibition, which carries forth the ZKM series "Philosophy and Art," presents Bense as poet and author, scholar of the arts and literature, as well as exhibition curator and publicist.
Bense, who was active in Stuttgart from 1949 until his death in 1990, propagated an aesthetic of "technical existence" in Germany of the post-war era, which antedated by decades the media-theoretical turn in literature and the humanities that occurred in the 1980s. His thoughts on literature and art were part of a comprehensive philosophical picture of the world that showed a natural-science and "technical reality" of civilization and was aimed against German post-war culture's romantic and mythologizing trends. Already back then, Bense established a concept of culture that—in the Enlightenment tradition—included the intellectual history of mathematics, physics, and engineering.

Max Bense, who was born on 7 February 1910 in Strassbourg, studied physics, mathematics, mineralogy, geology, and philosophy at the universities of Bonn and Cologne, and received his PhD in 1937 with a thesis on "Quantum mechanics and existential relativity." He first worked as a physicist for I.G. Farben in Leverkusen. After his war duties, Bense pursued an invitation from the University of Jena. But he already fled to West Germany in 1948 and was appointed first as visiting professor in 1949 and then as professor of philosophy and the philosophy of science in 1950 at the Technische Hochschule Stuttgart. He also taught at the HfG Ulm, the Hochschule für bildende Künste Hamburg, and in Rio de Janeiro.

Bense began pursuing his literary and artistic tendencies as publicist and radio playwright during his studies. In Stuttgart, he also began to organize exhibitions, first at the Galerie Gänsheide beginning in 1957, then at the study galleries he founded at the Technischen Hochschule Stuttgart. He wrote about numerous fine artists and poets, among others, about Max Bill, Lygia Clark, Alberto Giacometti, Almir Mavignier, Henri Michaux, Mira Schendel, and Paul Wunderlich as well as Alfred Andersch, Haroldo de Campos, Reinhard Döhl, Eugen Gomringer, Francis Ponge, Nathalie Sarraute, and Gertrude Stein. In addition to his exhibitions and essays, Bense also created other forums for the arts: i.e., by founding the magazine "Augenblick" (1955) and "reihe rot," 1960, which he and Elisabeth Walther edited, which published, among others Helmut Heissenbüttel, Ernst Jandl, Friederike Mayröcker, and Diter Rot. At the same time, beginning with semiotics and news technology, beginning in the mid-1950s he developed an "information aesthetics" that influenced concrete and kinetic artists throughout Europe and made him one of the seminal theorists of the pioneering era of European computer art.

The exhibition with publications by Max Bense and prints, paintings, and sculptures by artists that were important to Max Bense, or were influenced by him, is supplemented with manuscripts and photos, as well as recordings of his radio plays and television appearances. They show the philosopher and his view of "art in an artificial world" (1956).

Artists in the exhibition:
Kurd Alsleben, Max Bill, Hannelore Busse, Pierre Charbonnier, Lygia Clark, Waldemar Cordeiro, Augusto de Campos, Haroldo de Campos, Reinhard Döhl, Ian Hamilton Finlay, Pierre Garnier, Bruno Giorgi, Matthias Goeritz, Eugen Gomringer, Ludwig Harig, Helmut Heißenbüttel, Josef Hirsal, Oskar Holweck, Hugo Jamin, Ernst Jandl, Hiroshi Kawano, Reinhold Köhler, Harry Kramer, Kurt Kranz, Theo Lutz, Aloisio Magalhaes, Georges Mathieu, Almir Mavignier, Hansjörg Meyer, Henri Michaux, Manfred Mohr, François Morellet, Frieder Nake, Georg Nees, Günter Neusel, Heinz Pfahler, Décio Pignatari, Uli Pohl, Francis Ponge, Diter Rot, Bernhard Sandfort, Mira Schendel, Anton Stankowski, Karel Trinkewitz, Timm Ulrichs, Gerhard von Graevenitz, Oswald Wiener, Emmett Williams, Wols, Paul Wunderlich, and Dolf Zillmann

Curated by Margit Rosen, Jens Lutz, Miriam Stürner, and Peter Weibel

Website of the exhibition: http://on1.zkm.de/zkm/stories/storyReader$6924#bense_artists

Image: Max Bense, 1966, © Nachlass Max Bense, Foto: Paul Sessner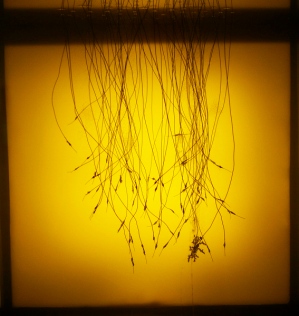 EL PROCESO COMO PARADIGMA

LABoral - Centro de Arte y Creación Industrial
Los Prados, 121, 33394 Gijón, Spain

Exhibition: Fri, 23th April 2010 - Mon, 30th August 2010

Before the background of unforeseen global processes, credit crash and climate change, the exhibition "el proceso como paradigma" researches the nature of processes and self organising, processual systems on a cultural level and in the arts. "el proceso como paradigma" puts forward the idea that today processes have become one of the major paradigms and creative strategies in contemporary art and design across the disciplines. The show reveals the elementary shift from a culture based on the concept of manifestation and the final product to a culture of process resulting from a networked society. Consequently, the show introduces a new understanding of process-based art which goes beyond previous definitions. "el proceso como paradigma" suggests that the new process-based art is the art of the 21st century.
 
Artists: Jelte van Abbema, Ralf Baecker, boredomresearch, Gregory Chatonsky, Adrián Cuervo, Ursula Damm, Driessens & Verstappen, Peter Flemming, Isabelle Jenniches, Roman Kirschner, Allison Kudla, Manu Luksch & Mukul Patel, Aymeric Mansoux & Marloes de Valk, Luna Maurer, Marta de Menezes, Henrik Menné, Leo Peschta, Julius Popp, C.E.B. Reas, RYBN, Warren Sack, Antoine Schmitt, Ralf Schreiber, Jan-Peter E.R. Sonntag

Curated by: Susanne Jaschko & Lucas Evers

Website of the exhibition: http://www.laboralcentrodearte.org/exhibitions/show/125

Image: Roman Kirschner, Roots / copyright: Roman Kirschner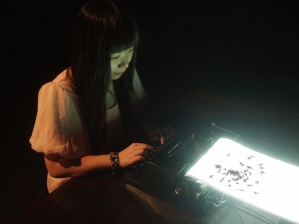 Robot Dreams

9th June - 12th September 2010
An exhibition at Museum Tinguely, Paul Sacher-Anlage 2, CH-4002 Basel
Opening hours: Tue. - Sun. 11 am – 7 pm
in cooperation with Kunsthaus Graz

Exhibitions:
Museum Tinguely, Basel, from 9th June - 12th September 2010
Kunsthaus Graz from 9th October 2010 - 9th January 2011

The Museum Tinguely in Basel and Kunsthaus Graz are co-organising an exhibition that addresses the subjects of "Artificial Intelligence" and "Robotics". The title Robot Dreams is borrowed from a short story of the same name by Isaac Asimov, a biochemist and extraordinarily prolific writer of science fiction, in which Elvex, a robot, has to be destroyed because he has a dream in which he plans a revolt and starts to disregard the
Three Laws that are intended to keep him subservient to humans.

John Bock's history-inspired film oeuvre and Virgil Widrich's anthology of film cover a century of the development and aesthetic of films and literature on robots and robotics. Kirsty Boyle's work is influenced by Japanese Karakuri figures and combines contemporary research with the great tradition of Japanese automata. Using the technique of speech recognition, Sibylle Hauert and Daniel Reichmuth create an interactive experimental setting that leaves us uncertain as to whether we are (still) humans or machines, while Jon Kessler's huge, circular installation inspired by Alexander Calder and Sisyphus elucidates the absurd logic behind acts of war. Niki Passath's work focuses on swarm robots as a decentralised organisational form of artificial intelligence and on their ability to react to people. The architect François Roche, on the other hand, shows how building with the help of improvisational robotics and totally new materials could help us to return to bionic forms. Thomas Baumann researches ex negativo the possibilities of Anti-robots and uncovers a number of aspects that motivate our interest in robots. Finally, the topic of Luc Mattenberger's jet-ski for suicide bombers is man as a (ideologically) remote-controlled robot.

In addition to these recent projects, the show includes art works that complement the broad topics of Robotics and Artificial Intelligence, among them pieces that have been specifically mentioned by the participating artists as inspiration for works of their own. These include works by Yan Duyvendak, Jessica Field, Ed Kienholz, Richard Kriesche, Nam June Paik, Walter Pichler, Christa Sommerer and Laurent Mignonneau, as well as Stelarc.

Website of the museum: http://www.tinguely.ch/de.html

Image: © Christa Sommerer & Laurent Mignonneau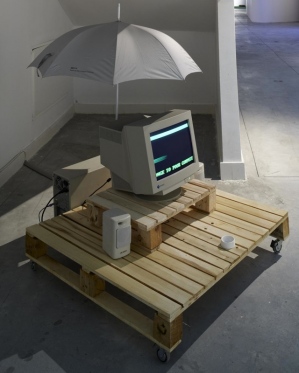 Playlist. Playing Games, Music, Art

June 4 - August 21, 2010

iMAL Center for Digital Cultures and Technology
Koolmijnenkaai 30 Quai des Charbonnages, 1080 Brussels
Opening hours: Tue. - Sat.: 11 am - 7 pm

PLAYLIST explores the relationship between video games, music and visual art. The exhibition, imported from LABoral (ES) and now presented at iMAL, shows artworks by artists coming from the "chiptune" and media arts scenes who reused old PC's and games consoles to create new sound and visual contents. Reinventing and hacking vinyl's, vintage computers, game platforms, they turned "dead media" into powerful tools of artistic creation.

What happens when the emotional investment you made in your old computers brings you back to the garret where you sent them years ago? When you can't no longer suffer to work with sophisticated machines that, while promising you more freedom, actually force you to wear the straitjacket kindly designed for you by some corporate guy? When you decide that's time to put your hands on the machine?

Reinventing the medium: from music to visual arts
What happens is an act of reinventing the medium. Along the Nineties, many artists started working on the reinvention of obsolete, digital as well as analogue, technologies such as vinyl's, vintage computers, game platforms and alike. Hacking software, circuit-bending hardware, they turned "dead media" into powerful tools of artistic creation. Playlist is an exhibition that explores this kind of research, focusing on the relationship between musical research and visual research, in the belief that the first, rather than the latter, has often been the driving force in this process.

Chiptune, 8-bit punk et arts médiatiques.
The core of Playlist is the exploration of the "chiptune scene", spread out from the manipulation of obsolete game technologies in order to create new instruments to play music. The show demonstrates that the retro-gaming phenomenon in visual arts can be considered an outfit of a pretty musical phenomenon, that in a bunch of years spread out all over the world through festivals and clubs, occasionally influencing mainstream musicians; and that visual and musical research progressed on parallel paths, in the quest for lo-fi sounds and low-res aesthetics, synthetic colors and notes.
Playlist proposes artists from the chiptune scene and the media arts world sharing attitudes such as DIY, recycling, subversive refusal of programmed obsolescence, aesthetics of the glitches from electronic materials. On display, artworks (objects, installations, videos, computer-based and printed works), but also instruments, tools, software's, hardware's, records, 8-bit music, movie documentary, platforms and communities.

Presented artists
2 Player Productions (US), Alex Bond / Enso (US), Boogerlab (NZ), The C-Men (NL), Paul B. Davis (UK), James Dingle (US), Jeff Donaldson / noteNdo (US), Julien Ducourthial (FR), Entter (SP), Dragan Espenschied (DE), Gino Esposto / Micromusic.net (CH), Gijs Gieskes (NL), André Gonçalves (PT), Chantal Goret (BE), Goto80 (SE), Jodi (BE / NL), Mike Johnston / Mike in Mono (UK), Joey Mariano / Animal Style (US), Rosa Menkman (NL), Raquel Meyers (SP), Mikro Orchestra (PL), Don Miller / NO CARRIER (US), Erik Nilsson (SE), Nullsleep (US), Tristan Perich (US), Rabato (SP), Gebhard Sengmuller (AT), Alexei Shulgin (RU), Paul Slocum (US), Tonylight (IT), VjVISUALOOP (IT)

Curated by Domenico Quaranta

Website of IMAL: http://www.imal.org/index.php?sub=home_EN

Image: Alexei Shulgin, 386 DX, 1998, © Alexei Shulgin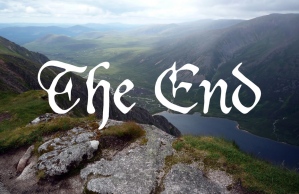 Thomson + Craighead
 
20th June - 25th July 2010
 
HICA (the Highland Institute for Contemporary Art)
Dalcrombie, Loch Ruthven
Inverness-shire IV2 6UA
Scotland, UK

The exhibition includes new time-related pieces of the artists: a major new film work The Time Machine in Alphabetical Order, is a complete rendition of hte 1960's film version of HG Wells novella Time Machine, re-edited by the artists in its entirety into alphabetical order. This re-working imposes a formalistic time travel on the original movie and presents it back as a more esoteric and rythmic narrative assemblage.

Flipped clock is a modified digital clock display, where each individual digit is rotated by 180 degrees. The result is a fully funcitioning and accurate clock but one which defamiliarises the viewer from "clock time", reminding us that thes ever present measurement is itself simply human artifice. Flipped Clock gives us the opportunity to glimpse "clock time" form the outside again.

The End is an intervention into HICA's picture window, where the words "The End" are fixed onto the inside of the glass in a style and scale one would associate with the end credits of a movie. By the simplest means possible, the artists gently ficitionalise the surrounding landscape by suggesting a sense of cinematic time overlaying the real-time view out of the window.

Open Sunday 2 – 5pm during exhibitions or by appointment

http://www.h-i-c-a.org/ThomsonCraighead.htm
From cinetics art to digital art

Fondation Vasarely

1 avenue Marcel Pagnol

13090 Aix-en-Provence
France

Exhibition: 2nd June to 11th July 2010

This group exhibition will be the subject of a catalogue to be published by LAb[au].
With : 
Victor Vasarely (1906 – 1997) / Sérigraphies 
Nicolas Schöffer (1912-1992) / Chronos 10
LAb[au] | Framework 2007-2009 | Pixflow 2006-2007 | SwarmDots 
2009 |Chrono.prints 2009 | Particle Synthesis _ 06/10 
Carsten Nicolai / Rota, 2009 
Ryoji Ikeda / data.scan 2010 
Zimoun / "425 Prepared DC-Motors / Filler Wire 1.0mm " - 2010 
Vera Molnar | Plotter Drawing 1974-1991
Maria Watz / Grid Distortion 02D 0003 & 03D 0012

This exhibition places side by side the architectural and visual art heritage of the Vasarely Foundation side by side with contemporary artworks that develop a transversal approach across "digital" art, design and sound creation.
Here, artwork created on site and known of as « integrations » are shown along side a selection of the silkscreen prints produced by the master of Op Art, Victor Vasarely, a sculpture by the forefather of cybernetic art, Nicolas Schoëffer – chronos b – and other artworks recognized as being at the spearhead of today's "digital" art. If the Vasarely Foundation, a veritable shrine of Op art, has work that is considered some of the most contemporary pieces of graphic artwork today, we can still feel that the mark of time, the vocabulary and the art language developed by the one continues to nourish the creativity and technological mastery of the other.
By revealing the attitude adopted by the creators-developers of today, those following in the wake of Victor Vasarely and Nicolas Schöffer, we will understand how their work also bears the mark of the technological upheavals of their era.

http://www.fondationvasarely.org/uk/delartcinetique.php

Image: LAb[au], f5x5x5, 2008/09, installation at the Vasarely Foundation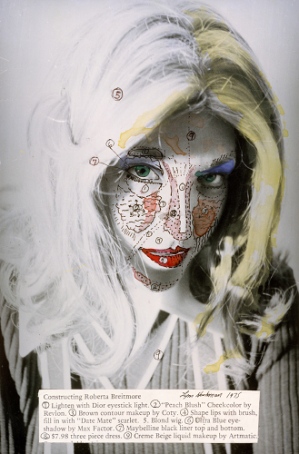 Lynn Hershman Leeson receives the 2010 d.velop digital art award [ddaa]

Berlin, Germany - American artist and filmmaker Lynn Hershman Leeson has been awarded the 2010 d.velop digital art award [ddaa]. Given biannually by the Digital Art Museum [DAM], Berlin, Germany, this international prize honours an artist's lifetime achievement in the field of new media. In addition to receiving a monetary award (20,000 Euro), Hershman Leeson will have a retrospective exhibition accompanied by a catalogue at the Kunsthalle Bremen in Germany. The [ddaa] is the most prestigious lifetime award to be given to artists in digital arts.

Lynn Hershman Leeson is the fourth artist to win the [ddaa]. This year's jury included Prof. Dr. Wulf Herzogenrath (Director of Kunsthalle Bremen), Dr. Norbert Nobis (Deputy Director of the Sprengel Museum in Hanover), Kelli Dipple (Curator Intermedia Art, Tate Modern, London), Stephen Kovats (Artistic Director of Transmediale, Berlin) and Wolf Lieser (Director of the Digital Art Museum [DAM], Berlin). Past winners are Vera Molnar (Hungary/France, 2005), Manfred Mohr (Germany/USA, 2006) and Norman White (Canada, 2008).

Lynn Hershman Leeson (* 1941) has been at the forefront of new media art since the 70s, investigating issues now recognized as key to contemporary society: protection of privacy, gender role, and the changing concept of identity in the age of virtuality. Very often, she acts as a non-linear storyteller, showing the loneliness of people in a world of mass communication systems. Her work makes use of alter egos, puppets and agents, and artificial intelligence. As a pioneer of interactive work, her oeuvre includes performance, film, photography, site-specific installations and digital media. One of Hershman Leeson's most notorious projects includes Roberta Breitmore, a fictional persona, created and enacted by the artist from 1973 – 79, and which anticipated virtual avatars. Hershman Leeson has been responsible for a number of technological innovations, including the first interactive computer-based artwork with Lorna (1983-84) and the artificial intelligent web agent DiNa (2006).

Her three feature films with Tilda Swinton – Conceiving Ada (1997), the first movie to use virtual sets; Teknolust (2002); and Strange Culture (2007) – were shown at the Sundance Film Festival, Toronto International Film Festival, and Berlin International Film Festival, and won numerous awards. Hershman Leeson has just completed !Women Art Revolution, a feature-length documentary to be released next year.

Hershman Leeson's work is featured in the public collections of the Museum of Modern Art, New York, the William Lehmbruck Museum, Duisburg, the ZKM (Center for Art and Media Karlsruhe), The Whitworth Art Gallery, Manchester, The Tate, London, the Los Angeles County Museum of Art, the National Gallery in Canada, the Walker Art Center, Minneapolis, and The Hess Collection, California, among others.

Most recently, Hershman Leeson received the 2009 SIGGRAPH Lifetime Achievement Award and a 2009 Guggenheim Fellowship. She is also the recipient of grants from The National Endowment for the Arts, Creative Capital Foundation, the Siemens Media Art Prize, ZKM, the Flintridge Foundation Award, the Prix Ars Electronica and the Alfred P. Sloan Foundation. In 2004, Stanford University acquired the artists working archive.
Lynn Hershman Leeson is Chair of the Film Department at the San Francisco Art Institute and Emeritus Professor at the University of California, Davis. She lives and works in San Francisco.

Lynn Hershman Leeson was nominated by Laura Sillars of FACT, Liverpool. Further nominees were Roy Ascott (nominated by Rudolf Frieling, San Francisco Museum of Modern Art), Hiroshi Kawano (nominated by Yoshiyuki Abe, pioneer of computer art from Japan), Lillian F. Schwartz (nominated by Barbara London (Museum of Modern Art in New York) and Roman Verostko (nominated by Douglas Dodds, Victoria & Albert Museum in London).

Initiated in 2005 by Wolf Lieser of the Digital Art Museum [DAM], the d.velop digital art award [ddaa] is assigned in close partnership with Kunsthalle Bremen, and is possible through the sponsoring of d.velop AG in Gescher, the Hauptpharma AG in Berlin as well as by the agency kommunikation lohnzich in Munster, Germany.

The award ceremony will take place in Berlin on Sat., 9th October 2010, at the Deutsches Technikmuseum Berlin, Germany.

For more information visit: http://www.ddaa-online.de/en.php

Image: Lynn Hershman Leeson, Roberta Breitmore Series, Roberta Construction Chart #1, 1975, dye transfer print, Courtesy of bitforms gallery and Gallery Paule Anglim
TRUST.
An exhibition at the Dortmunder U

31st July - 5th September 2010

Dortmunder U – Centre for Art and Creativity
Leonie-Reygers-Terrasse
44137 Dortmund
Germany

Opening hours: Di–So, auch Mo 23 August 2010, 10:00–20:00h

With works by Seiko Mikami (jp), Carsten Nicolai (de), knowbotic research (ch/at/de), Milica Tomi (rs), Ariel Guzik (mx), Joan Leandre (es), Joyce Hinterding (au), Julien Maire (de/fr), Naeem Mohaiemen (bd), HC Gilje (no), Sophie Bélair Clément (qc/ca), Konrad Becker (at), Verena Friedrich (de), Antoine Schmitt (fr).

Trust is a major factor in all human relations and it is the basis of communication. We trust the validity of rules, codes and conventions, and we have confidence in others. The same goes for media and technical systems as we entrust them with our wishes and longings. One may hold a nagging doubt and suspicion about them, yet we feel an urge to keep faith with the apparatuses and their simulacra when we consign them to tell us a good story, to convey the truth, and to make our lives better, healthy, and wholesome.
The group exhibition TRUST explores the aesthetics of this confidence by questioning its status, attempting to challenge the audience's convictions and by encouraging a reflected dialogue with machines and media. The works in the show point to the desires as well as the ethical and emotional dilemmas that arise from this attitude of trust.

Curated by Andreas Broeckmann and Stefan Riekeles.

ISEA2010 RUHR, 16th International Symposium on Electronic Art, is a project of RUHR.2010 European Capital
of Culture, and is hosted by medienwerk.nrw. ISEA2010 RUHR is organised by Hartware MedienKunstVerein.

http://www.isea2010ruhr.org/trust

Image: HC Gilje, Blink, 2009, audiovisual installation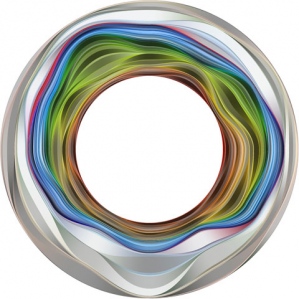 Digital Art @Google: Data Poetics

Exhibition location:
Google, Inc.!
75 Ninth Avenue, 2nd floor
New York, NY.
Guests must RSVP: rsvp@chelseaartmuseum.org

Exhibition: 11th June – 13th August 2010
Opening Reception: 11th June 11, 6 – 9pm

Google and The Project Room for New Media at Chelsea Art Museum (CAM) in New York are launching an
exhibition program, "Digital Art @Google NYC", which will engage Googlers with the art world and promote creativity with digital technology. The exhibitions and artist talks, which will take place at Google, Inc, will be open to guests at times indicated on the Chelsea Art Museum's website.
Data Poetics is featuring international digital artists, Scott Draves, R. Luke DuBois, Aaron Koblin, Mark Napier, W. Bradford Paley, Lincoln Schatz, John F. Simon, Jr., Thomson and Craighead, Martin Wattenberg and Fernanda Viégas.
Digital Art @Google NYC is curated by Nina Colosi, Curator of The Project Room for New Media at CAM and founder of its public art program, Streaming Museum, which presents exhibitions in cyberspace and public spaces on 7 continents.! The programs were inspired by pioneer video artist Nam June Paik who in the 1970s envisioned the Internet, predicting an "information superhighway" as an open and free medium for imagination and exchange of cultures.

Homepage of the exhibition: http://www.chelseaartmuseum.org/digitalartatgoogle/

Image: FERNANDA VIÉGAS & MARTIN WATTENBERG, FLICKR FLOW, 2009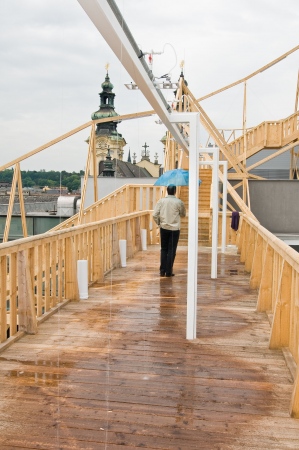 Paul DeMarinis: RainDance

Sound installation in the public space of the Julius-Mosen-Platz, Oldenburg

To see: 25th July - 26th September 2010
Opening: 25th July, 11.30 a.m.

A fourteen-meter long runway on the Julius-Mosen-Platz in the inner city of Oldenburg. People with umbrellas walking around, trying to cover from the drizzle that sprays out of six high mounted nozzless. The charmed people pause under their brollies. From the distance they form a kind of absurd but at the same poetic image. Being curious you come closer, take an umbrella and walk through the rain, to be as fascinated
as the others.

RainDance is an interactive sound installation by the American artist Paul DeMarinis. Drizzle from six nozzles transports sound vibrations. While standing outside of the dizzle the different melodies are inaudible. Only by
breaking the water jet with an umbrella the sound is decoded.

Every umbrella becomes a loud speaker, a private audio space for the person underneath it. But all individual, sound inspired *RainDances* can join to a common choreography.
The summer rain of RainDance changes the Julius-Mosen-Platz into an oasis of sound.

Homepage: http://www.edith-russ-haus.de/index.php/Programm/RainDance

Image: ©Otto Saxinger
REPAIR - ready to pull the lifeline

Ars Electronica 2010
Festival for Art, Technology and Society
Ars Electronica Center, Ars Electronica Straße, Linz, Austria
and Tabakfabrik, Gruberstr. 1, Linz, Austria

2nd September – 11th September 2010

There's no time left for warnings. We're in it up to our necks right now—in the climate crisis, Surveillance Society, the bankruptcy of the financial sector … We've passed the points of no return. The dramatic consequences are looming on the horizon today. And there's no excuse for our lethargy since we already possess ideas, tools and techniques to initiate a change of course. We just have to take action! Roll up our sleeves and get to work on a job that can no longer be avoided. We have to mend our ways and get things moving in the right direction.

In search of ways out of this mess we've gotten into, the 2010 Festival for Art, Technology and Society turns to the pioneers of our age. Not the adventurers who've sailed forth because they wanted to find out what awaits them on the other side, but rather the visionaries who are bringing expertise as well as a great deal of creativity and idealism to bear in their work on an alternative future. repair is the title of a festival designed to pursue the paths opened up by these trailblazers and to show why it's imperative for us to follow their lead …
"Where there is danger, the rescue grows as well" / Friedrich Hölderlin, Patmos (1804)

"It is too late to be a pessimist" / Yann Arthus Bertrand, Home (2009)

REPAIR – ready to pull the lifeline

It's said that all human beings on Earth put together weigh about as much as all the world's ants, which is estimated to be no more than half a percent of this planet's biomass. There are already 6,815,500.000 of us, and the world's population is adding an additional 2½ persons each second.

During the approximately 200,000 years since Homo Sapiens first appeared, we have been recklessly and thoughtlessly altering the Earth. This really got going in earnest about 10,000 years ago when we settled down and began pursuing agriculture, but it hasn't been until recently that we've passed critical points of no return in many areas. So it no longer does any good to warn of dangers looming on the horizon. We're already in it up to our necks. And that applies just as much to climate change and environmental destruction as it does to the naïve trust with which we've invited digital Surveillance & Control Society to come on in and make itself at home in our lives.

Sometimes the only way to repair is to restart

We can't go back to the beginning. We have to proceed from where things stand right now. But under different premises. With the courage to do things totally differently, to rebel against entrenched systems and modes of behavior and to radically change them.

We have to change ourselves!

The knowledge, techniques and tools to accomplish this are already at hand (after all, that's something humankind has always been good at), but the social and political consensus is far from finally starting to take the steps that we already realize are unavoidable. Let's face it: in the wake of the failure of our politicians and public administrators as demonstrated so impressively at the outset of the year in Copenhagen, about all that's left is our hope in the rationality of individuals and the wisdom of the masses. Our only choice is to finally roll up our sleeves and get started on the job of repair.

Repair – Rethink – Reinvent

Repair is the process of getting a damaged object back into a shape in which it can again carry out the function it was meant to perform. The Latin word reparare from which it was derived means not only to restore and rectify but also to renew. Inherent in a repair is a high degree of innovative power since, in contradistinction to recycling, this isn't a matter of returning things to their original state but of also being able to develop them further. It's a sustainable concept, inherent in which is displaying respect and appreciation for the things around us. This is a source of powerful creative and economic forces. And of no small importance is the fact that repair is a skill that makes those who acquire it a bit more independent.

Do it yourself – Repair it yourself!

Nevertheless, for us to be able to continue motoring on down this road, we must not only repair our vehicle this time; we also have to change our driving style and revise our destination.
"Repair"—the readiness and the capacity to repair things—is an alternative model to the still prevalent concept of primarily growth-based progress and the accompanying belief that this can assure prosperity for all. But now we see that the continuity of career and pension that we had come to take for granted was apparently just a brief historical episode (as well as one that was played out in only a very small portion of the world).
In order to extricate ourselves from the profound crises of our age, we need models of the future that also encompass the readiness and the ability to make repairs, and not just when it's already too late. This calls for courage, ingenuity and the willingness to think and act differently. This is a willingness that hasn't yet arrived on the decision-making levels of politics and business but that has more and more backing among the people on the street.

Repair = Regeneration

Repair also means making amends and healing, taking matters into our own hands and believing in our capacity to develop in a positive direction. Those who repair have a future.
Before the backdrop of this thematic orientation, the unique opportunity to stage this year's Ars Electronica on the grounds of the Tabakfabrik, a former tobacco processing plant that is now a historic landmark, will make the site itself a determinative programmatic element of the 2010 Festival. This manufacturing facility, which was constructed long ago to create jobs and ultimately became a victim of globalization or, rather, the fallacious conclusions drawn from it, is now a very valuable piece of centrally located real estate that has been declared the nucleus from which the new future of this city will emerge. Right now, though, it would be hard to imagine a better and more exciting setting for artistic encounters with the state of our society than this site.
Ars Electronica will thus once again serve as a proving ground, as a workshop for testing novel ideas and new possibilities to take action, and for assessing the viability and sustainability of visions and utopias. This is a process in which art and science, design and engineering can encounter each other on an equal footing.


Homepage: http://www.aec.at/festival_about_en.php

Image: credit: Ars Electronica Futurelab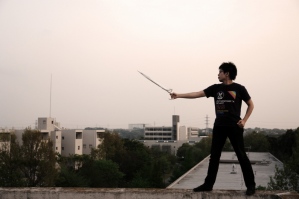 Space Invaders artists and works

NIMK
Keizersgracht 264
1016 EV Amsterdam
The Netherlands

28th August – 6th November 2010

Art and the Video Game Environment:
Exploring the increasingly blurred boundaries between video-game space and real space.

Jeremy Bailey, Aram Bartholl, Mark Essen, Cao Fei, Anita Fontaine, Riley Harmon, JODI, Michael Johansson, Ben Jones, Yuichiro Katsumoto, Walter Langelaar, Ludic Society, Julian Oliver, UBERMORGEN.COM

In Space Invaders: Art in the Computer Game Environment the Netherlands Media Art Institute brings art and games culture together. In an artistic, playful yet serious manner, Space Invaders reveals the influence of games on art and society. This group exhibition with Dutch and international media artists examines the increasing blurring of the boundaries between game worlds and reality. In Space Invaders media art works illuminate the migration of the physical world into gaming systems. Conversely, gaming elements are more and more finding their way into physical space. By infiltrating both game environments and real spaces, the artworks clarify the nature and influence of the computer game environments, and provide greater insight into the role that computer games play in contemporary culture.

Website of the exhibition: http://nimk.nl/eng/space-invaders-artists-and-works

Image: Yuichiro Katsumoto, AMAGATANA, 2009, © courtesy of the artist
International guests, curators and collectors attended this year's award ceremony of the [ddaa]. Laura Sillars from FACT in Liverpool hold an excellent laudation on Lynn Hershman's work. For more images and information please check: http://www.ddaa-online.de/en.php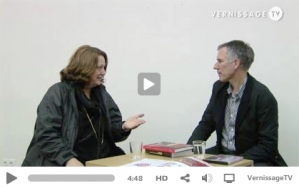 Watch the interview: http://vernissage.tv/blog/?s=lynn+hershman

Lynn Hershman Leeson is the winner of the 4th develop digital art award [ddaa] 2010/11, awarded by the Digital Art Museum [DAM] in Berlin, Germany. The international prize honors her lifetime achievement in the field of new media.
On the eve of the award ceremony in Berlin, VernissageTV met with Lynn Hershman Leeson and taped a conversation between the artist and the Director of the Digital Art Museum [DAM] and initiator of the [ddaa], Wolf Lieser at the Gallery [DAM] Berlin.
In this interview, Lynn Hershman Leeson talks about the beginnings of her career as an artist and filmmaker, the reasons and motivations to use new media and technology, her project !WAR (!Woman Art Revolution) and today's situation of women in the art market, the presentation and recognition of digital media in the art scene, and her plans for the near future.
Lynn Hershman Leeson in conversation with Wolf Lieser, DAM Berlin, Germany, October 8, 2010.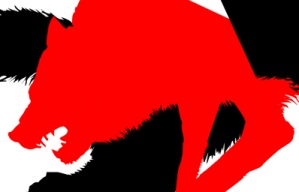 Liverpool Biennial 2010 – International 10 at FACT

18th September – 28th November

Galleries 1, 2, Media Lounge and Public Spaces
FACT (Foundation for Art and Creative Technology)
88 Wood Street
Liverpool
L1 4DQ
UK

FACT presents new commissions from artists including Yves Netzhammer and Kaarina Kaikkonnen, and the first European exhibition of acclaimed performance artist Tehching Hsieh, as part of the sixth Liverpool Biennial.

Touched, the International exhibition for the 6th Liverpool Biennial of International Festival of Contemporary Art, celebrates a decade of bringing new art to the UK through curatorial collaboration for the International show.

It will involve more artists than ever before, while continuing to place an emphasis on commissioning ambitious new work from leading and emerging artists based outside the UK.

Touched consists of new art that succeeds in affecting the viewer: art that moves us in mind, body and soul. At FACT, the theme is translated into the notion of "a mother's touch". The artworks examine ideas of separation and loss, questioning the notion of unconditional love and asking how, when more and more of us live dispersed in other cities and overseas, do we learn new virtualised ways to be touched and touch?

Website: http://www.fact.co.uk/about/exhibitions/2010/liverpool-biennial-touched/yves-netzhammer-dialogical-abrasion

Image: Logo FACT Liverpool Biennal Touched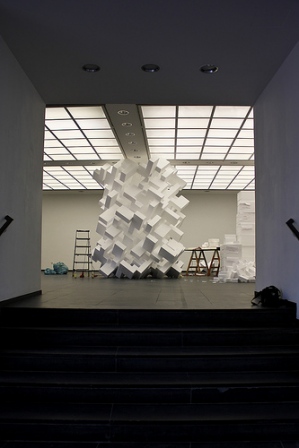 abstrakt Abstrakt
The Systemized World

Exhibition in the context of Node Festival 2010
Frankurter Kunstverein

16th-20th November, daily from 11 am -midnight

Opening: Monday, November 15, doors open: 6 pm, welcome notes: 8.30 pm

Through the exhibition 'abstrakt Abstrakt - the systematized world' we seek to analyze the nature and effect of abstraction systems.
Abstraction systems reproduce the 'world' in a new medium (e.g. the financial system) and have great effect on our lives through complex regulatory circuits. The extensive and powerful autonomy of such systems becomes obvious in moments of their dysfunction, like during the interruption of air traffic due to a scientific simulation of a vulcano cloud, or by the drop of the stock market due to automated computer trade. Under a regime of rationality scientists and engineers become performing agents of this development, and bring ever new abstraction systems (and even abstractions of abstraction systems) into action, empowered by computerization and softwareization.
 
The exhibition 'abstrakt Abstrakt' collects works by several international artitsts that reflect these new condtitions of artistic production. The nature and effect of abstraction systems becomes apparent in works of digital and mathematical nature as well as in pieces that analyze, observe and transform artefacts of an abstract society.

Exhibiting Artists
Ralf Baecker, FIELD, Ben Fry, Leander Herzog, Robert Hodgin, Thilo Kraft, Brandon Morse,Louise Naunton Morgan, John Powers,Patrick Raddatz, SOFTlab, Jorinde Voigt, Zimoun
Curation: Eno Henze, Marius Watz


Website: http://node10.vvvv.org/

Image: Installation 006 from John Powers (under construction), photo: © Marius Watz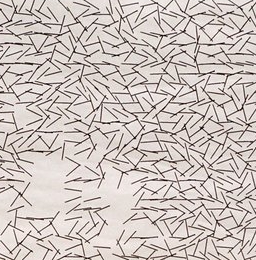 On Line: Drawing Through the Twentieth Century

Museum of Modern Art
11 West 53rd Street
New York

21th November 2010 – 7th February 2011

On Line explores the radical transformation of the medium of drawing throughout the twentieth century, a period when numerous artists subjected the traditional concepts of drawing to a critical examination and expanded the medium's definition in relation to gesture and form. In a revolutionary departure from the institutional definition of drawing, and from the reliance on paper as the fundamental support material, artists instead pushed line across the plane into real space, thus questioning the relation between the object of art and the world. On Line includes approximately three hundred works that connect drawing with selections of painting, sculpture, photography, film, and dance (represented by film and documentation). In this way, the exhibition makes the case for a discursive history of mark making, while mapping an alternative project of drawing in the twentieth century. The exhibition includes works by a wide range of artists, both familiar and relatively unknown, from different eras of the past century and from many nations, including Picasso, Duchamp, Kandinsky, Klee, Aleksandr Rodchenko, Alexander Calder, Karel Malich, Eva Hesse, Anna Maria Maiolino, Richard Tuttle, Mona Hatoum, and Monika Grzymala. Vera Molnar is represented with a hand drawing and a code driven piece.

Website of the exhibition: http://www.moma.org/visit/calendar/exhibitions/971

Image: Vera Molnar, Interruptions, plotter drawing (detail), 1969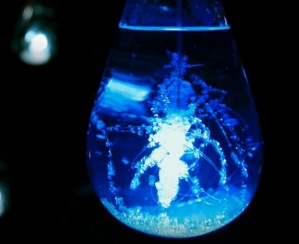 ELECTROHYPE 2010

YSTADS KONSTMUSEUM
S:t Knuts torg, Ystad
Open: Tue – Fri 12-5 pm, Sat - Sun 12-4 pm.
23rd Dec + 5th Jan: 12-4 pm
Closed: 24th, 25th, 31st December + 1st January

Exhibition: 27th November 2010 - 30th January 2011
Opening reception: Sat., 27th November, 12 – 4 pm.

The Electrohype Biennial 2010 includes the following artists:
boredomresearch, Great Britain
Serina Erfjord, Norway
Sion Jeong, Korea
Yunchul Kim, Korea
Nikki Koole, The Netherlands
Diane Landry, Canada
Caleb Larsen, USA
Enrique Radigales, Spain
David Rokeby, Canada
Norman T White, Canada

The theme for this year's exhibition is objects, which could not be more suitable for an exhibition, that takes place in an art museum. A museum is in itself filled with objects. Electrohype 2010 will focus on electronic artworks with at more obvious physical frame, but as much extent as earlier years. In this year addition you will find everything from the mechanic to the organic, from sound to light and from dry observation to humour.

Website: http://www.electrohype.org/2010/

Image: Sion Jeong, Karat, 2010, Installation with growing crystals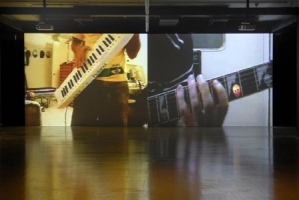 Cory Arcangel
Here Comes Everybody

HAMBURGER BAHNHOF - MUSEUM FÜR GEGENWART - BERLIN
Invalidenstraße 50-51
10557 Berlin
Germany

30th November 2010 - 1st May 2011

The New York-based artist Cory Arcangel (* 1978) uses his work to explore the practices and myths that have built up around Internet culture, pop music and experimental music. In processing visual and audio material for his works, he not only uses and adapts available computer programmes but also develops his own programming to do so.

Far from being merely interested in current trends in the entertainment industry and in our everyday use of the Internet, the artist also highlights the rapid obsolescence of technologies and codes. Cory Archangel mixes and matches his works, each time presenting them in a new constellation to each other and applying them in different settings. Depending on the situation, for instance, he combines older and more recent video works with sculptural works, while the material for a music performance may also reappear in a video installation or in an Internet project.

At the heart of this exhibition is the two-screen video installation entitled 'a couple thousand short films about Glenn Gould' from 2007. Compiled from over 1100 individual snippets that the artist downloaded off the Internet and edited using software that he himself devised, we are treated to a video version of the 1st variation from Johann Sebastian Bach's Goldberg Variations. At a bewildering speed, the images alternate from person to person as each individual plays a completely different instrument, each time performing a single note from Bach's composition. The pianist Glenn Gould used the technique of piecing together various recordings to produce his commercial records, something which Archangel takes here to its humorous extreme.

Image: Cory Arcangel, a couple thousand short films about Glenn Gould, 2007
Installation View of Northern Gallery for Contemporary Art, Sunderland UK, 2007.
Staatliche Museen zu Berlin, Nationalgalerie, Donation of Outset Contemporary Art Fund 2009 © Courtesy the artist and Galerie Thaddaeus Ropac, Paris/Salzburg

Website of the exhibition: http://www.hamburgerbahnhof.de/exhibition.php?id=29371〈=en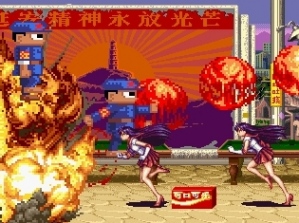 Feng Mengbo
Long March: Restart

MoMA PS1
22-25 Jackson Ave at the intersection of 46th Ave
Long Island City, NY 11101
Phone: ++1 (718) 784-2084

Exhibition: 12th December 2010 - 4th April 2011

Opening hours:
12 - 6 p.m., Thursday through Monday: closed on Tuesdays and Wednesdays.
MoMA PS1 is closed in recognition of the following holidays:
Thanksgiving, Christmas and New Years Day.
On Christmas Eve MoMA PS1 closes at 3 p.m.

MoMA PS1 presents the New York debut of Feng Mengbo's installation Long March: Restart (2008), a large-scale interactive video-game installation. Recently donated to MoMA and presented for the first time since it has entered the Museum's collection, Long March is a fully functioning video game created by the Beijing-based artist, who is known for his long-time engagement with digital technology. Lifting imagery from classic games like Street Fighter II and Super Mario Bros., along with propaganda motifs from Communist China, Mengbo invites visitors to direct the hero-a Red Army soldier-via a wireless controller and combat the various enemies in his digital path.

"I, like millions of others out there, move around my living room quite a bit while playing Wii Sports and other such games. However, Mengbo's Long March: Restart is no simple game of Wii Tennis. The "Long March" in Mengbo's title refers to the massive military retreat of The Chinese Communist Party's Red Army, under the command of Mao Zedong and others, that began in 1934; pursued by the Chinese Nationalist Party, the Red Army traveled over 8,000 miles in 370 days, covering some of the worst terrain in China. Mao's firm leadership throughout the Long March sealed his fate as China's leader for decades to follow. In 1935, in a report titled On Tactics against Japanese Imperialism, the leader wrote, "The Long March is a manifesto…. It has proclaimed their utter failure to encircle, pursue, obstruct and intercept us. The Long March is also a propaganda force. It has announced to some 200 million people in eleven provinces that the road of the Red Army is their only road to liberation." Something tells me that Mao would not have passed out cans of Coca-Cola for his Red Army soldiers to launch at their enemies, as Mengbo has done in Long March: Restart!" (Excerpt from a text of Katelyn Sandfort, Department Coordinator, Department of Media and Performance Art, on the website: http://www.moma.org/explore/inside_out/2010/02/04/new-acquisition-feng-mengbos-long-march-restart)

Image: Feng Mengbo. Long March: Restart. Video game installation (color, sound). The Museum of Modern Art. Given anonymously. © 2010 Feng Mengbo. Screenshot courtesy the artist

Website: http://ps1.org/exhibitions/view/320
This summer, UBERMORGEN.COM, an artist duo composed of lizvlx and Hans Bernhard, were commissioned to create an interactive, engaging work designed to introduce a new worldwide audience to the importance of supporting the Whitney's Annual Fund—and by extension, art in an increasingly global community.

For a limited time the Annual Fund can be supported (1 $ donation) by playing the games included in CLICKISTAN, a work of computer game art that references early net art and classic coin-operated arcade games such as Space Invaders (1978), Donkey Kong (1981) and Pac Man (1980). As you move through levels, you'll score points in ways that aren't immediately obvious. The retro feel of the games will inspire the inner gamer in many, and for those visitors who are knowledgeable about the history of net art, the visit will be even more rewarding.

Website: http://whitney.org/Membership/AnnualFund/2010#

Image: UBERMORGEN.COM, Clickistan, 2010, Video Game