From July 13, 2013
AppArtAward 2013
Highlights

An Exhibition at the ZKM | Media Museum

To promote creative developments beyond economic structures and make the previously unthinkable thinkable − that is the goal of the AppArtAward, which was awarded on July 12, 2013 by the ZKM | Karlsruhe and its partners for the third time.

The prize awards the best work of art in App format that distinguished themselves as advanced artistic applications. In addition to the aesthetic aspects, focus is placed on the creative integration and use of technological possibilities. From over 100 submissions, the renowned jury selected the winners in the categories "Prize for Artistic Innovation", "Special Prize for Augmented Reality Art" and "Special Prize for Crowd Art", which were each connected to a sum of € 10,000.

At the accompanying exhibition, visitors may view and test the winner Apps themselves, as well as a selection of the best submissions of the AppArtAward 2013.

Winner
»Prize for Artistic Innovation«
JODI: ZYX, 2012
Application for iOS
ZYX is a performative app that guides users to carry out a series of movements, thus exposing them to a dissonant situation that is both virtual and physical: while it looks to outsiders merely as if the users are performing some kind of bizarre dance, the iDevice registers any correctly executed sequence of motions and rewards it with a signal tone.
JODI is an artistic collective consisting of Joan Heemskerk and Dirk Paesmans who live and work in the Netherlands.

»Special Prize for Augmented Reality Art«
Kei Shiratoris, Takeshi Mukai, Younghyo Bak: ARART, 2013
Application for iOS
This app ARART blurs the boundaries between the real and the virtual world by having the iDevice superimpose a new dimension of reality on real art works. Historical background information is conveyed in a creative manner, enabling the viewer to develop new ways of seeing the original.
Kei Shiratoris lives and works as media artist in Tokio, Takeshi Mukai works at the intersection of fine arts and new technology and the media artist Younghyo Bak st PhD student at the Kyoto City University of Arts.

»Special Prize for Crowd Art«
Andrew Bluff: Mobile Phone Orchestra, 2012
Application for iOS
With the app Mobile Phone Orchestra, the user takes part in an automatized, collaborative sound experiment that combines the private music libraries of the various users to form a public sound space. Each iDevice becomes an individual "sound producer", creating unique acoustic art works in combination with other mobile devices.
Andrew Bluff lives and works in Sydney and is a up-and-coming media artis, who has already produced several prizewinning works.

Further Apps in the Exhibition: CoreMites (2013), Dépli (2013), Fairgrounds Night (2012), Konstruct (2011), Man In A Box (2012), Once Touch (2012), Petting Zoo (2013), SoundyThingie (2010), Urban Rhythms (2011)
For more information, please see: www.app-art-award.org

Project Management: Julia Jochem
Technical Management: Volker Sommerfeld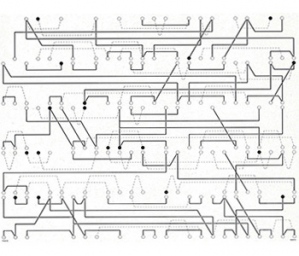 June 8–September 1, 2013
An exhibition at the ZKM | Media Museum
Opening: Fri, June 7, 2013, 7 p.m., ZKM_Foyer

In the 1960s, numerous artists turned away from painting with brush on canvas: They sought alternatives to the spontaneous, emotional expressive forms of the 1950s, such as Tachism, abstract Expressionism and Informel. The various paths let to Op Art, Kinetic Art, Minimal Art and conceptual art. In a certain sense, Manfred Mohr is one of the most radical painters of the period: in 1969 he had already opted for the use of the computer as an artistic medium. The machine fulfilled the yearning for rationality, precision and conceptualization of artistic work opened up the horizon for formal experiments of hitherto unknown complexity. On the occasion of his 75th birthday, the ZKM is dedicating a retrospective to the Pforzheim-born, New York-based artist in the form of a representative selection of works and numerous documents from his archive.
Mohr discovered the use of electronic calculating machines for the production of artistic works by way of the French pioneer of computer-generated music, Pierre Barbaud, with whom he became acquainted in Paris, in 1967. For Mohr, then not only a fine artist, but also a jazz musician, computer art represented an answer to the question as to how in art the principle of systematic, musical notation can be realized. The idea of a rational art had already fascinated Mohr in the early the 1960s, when first encountering the ideas of the philosopher Max Bense. He then learned programming autodidactically, managing to gain access to a computer and plotter at the Météorologie Nationale, the French national institute for meteorology. In 1971, a solo-exhibition of his work was held at the Musée d'Art Moderne de la ville de Paris. This was the first museum solo-exhibition of works by an artist whose works were produced and drawn exclusively by means of a fully automatic digital computer. Over the forty years that followed, Mohr went on to create a comprehensive formal vocabulary which he realized not only in drawings, but also in films, paintings, sculptures, art books, reliefs and computer animation.
The exhibition title makes reference to the decisive moment in the artistic process of the work with a computer: the design of the algorithm, namely, the sets of rules which are systematically processed by the computer. In a text dating from 1971, Manfred Mohr poses the provocative question as to whether it is possible to fully describe an artist's style by an algorithm. The multiplicity of works presented in the exhibition documents the utopian element of the enterprise.

About the artist:
Manfred Mohr (*1938 in Pforzheim): after a training at the Kunst- und Werkschule Pforzheim the artist studied at the École des Beaux Arts, Paris. He has been living and working in New York since 1981. His works are represented in numerous collections, among others, the Centre Pompidou, Paris, the Museum Ludwig, Cologne, and Stedelijk Museum, Amsterdam. His works have been on show in numerous solo- and group exhibitions, such as at the Kunsthalle Bremen, the Museum of Modern Art, New York, the Centre Pompidou, the Museo Nacional Centro de Reina Sofia, Madrid and the PS1, New York. His art has been awarded with numerous prizes, among others, with the Goldenen Nica of the Ars Electronica (1990), as well as the d.velop digital art award [ddaa] (2006).

Curator: Margit Rosen
In conjunction with the exhibition a book is to be published with early texts by Manfred Mohr: "Der Algorithmus des Manfred Mohr. Texte 1963–1979", ed. by Margit Rosen.


- subject to change -
photo: Manfred Mohr "P-055", 1970
computer generated plotter drawing, ink on paper
private property
© Manfred Mohr
From June 21, 2013
An exhibition at the ZKM | Media Museum, 2nd floor
Opening: Fri, June 21, 2013, 3 p.m./6 p.m., admission free

ZKM_Gameplay is the new permanent exhibition on the theme of video games and experimented forms of play. Since its opening in 1997, numerous computer games have been presented at the ZKM | Media Museum in Karlsruhe, since these reflect an essential part within modern society heavily influenced by digitalized realities of life. For centuries new artistic, experimental, media-reflective as well as 'serious' games have evolved. The cultural and economic power of digital games and gameplay have experienced and continuous growth. This has made the games an important object of the ZKM.

ZKM_Gameplay extends across the entire 2nd floor of the Media Museum. A varied selection of exhibits is on display. A large area is dedicated to works of game art ranging both from art which has computer games as its subject, and computer games designed by artists. Added to this are computer and video games, which illustrate the entire range of the medium and make these experienceable in the Media Museum.

One main area of focus is taken up by independent games and serious games; approaches which have distinguished themselves, for example, by particularly innovative games ideas, an interesting experimental claim, a powerful cultural effect, or an unique consciousness of its own means and forms of expression. The exhibition's special highlights are, among others, "The Night Journey" by media artist Bill Viola or "Long March: Restart by Chinese Feng Mengbo. The artis Mary Flanagan is represented by her work "[giantJoystick]": the three-meter high sculpture consists of a functioning joystick. Due to its size it has to be operated by at least two persons with unified forced. Further games are for example "Braid" by Jonathan Blows oder "Krautscape" by Mario von Rickenbach. Classics, such as "Pong", "Pac-Man" or "Super Mario World" are presented at the new "World of Computer Games" as well.
The age ratings of the games range from 0 to 12 years old. Most of the games are suitable for children, but may also appeal to adults in the same way. Furthermore, there are a few games, which are recommended until the age of 16.

Curator: Stephan Schwingeler and Bernhard Serexhe


- subject to change -
photo: Exhibition opening on June 21, 2013
© photo: Felix Grünschloß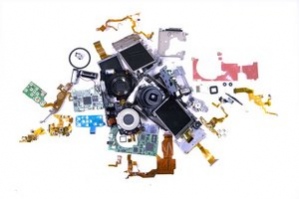 Edith-Russ-Site for Media Art Oldenburg
Something Other Than Photography: Photo & Media

26 June 2013, 14:00 - 15 September 2013, 18:00
Opening: 25 June 2013, 19:00
Presstalk: 24 June 2013, 11:00

This exhibition presents a selection of international artistic stances from the seventies to the present that in principle work with the possibilities presented by photographic information. Yet they unveil expanded dimensions that differ from conventional photographic depiction and thus set foot in the programming inside the "black box"—the camera.
Contemporary art is marked by an increasingly media-related hybridization of various artistic concepts and complex visual languages. This reciprocal influence incisively penetrates the traditional concept of photographic representation, which due to digital image technology has radically released itself from the constraint of depicting reality.
The artists selected for this exhibition at the Edith-Russ-Haus for Media Art present striking works that examine the progressively paradigm-setting role photography has assumed in the overall system of visual art since the development of digital media and technologies.

Curator: Dr. Claudia Giannetti

Participating Artists:
Heiner Blum, Maisie Broadhead & Jack Cole, Carlos Fadon Vicente, Franz John, Edmund Kuppel, Andreas Müller-Pohle, Sergio Prego, Patrícia Reis & Vasco Bila, Christoph Wachter & Mathias Jud


image: Penetrating the black box © Patricia J. Reis, 2013
House of Electronic Arts Basel
20. September 2013 - 3. November 2013

Urban Sounds

Opening reception on september 20, 7 p.m. with DJ-Set by Maria Chavez (PE/US)

What does urban space sound like? Cosmopolitan cities are melting pots where new cultures, structures, trends, and behaviours of political and economical importance emerge. The exhibition- and event series Urban Sounds at the House of Electronic Arts Basel, supported by Pro Helvetia,  acoustically explores the complexities of such urban spaces. What does an African Mega-City sound like and how does it differ from the acoustic appearance of the trinational urban space of Basel? Sound artists explore these areas and reflect upon them musically and tonally: By precisely displaying urban sound, carving out the diversity of noise, abstracting spatial and rhythmic structures, or accentuating the relevance of cultural identity.
In this artistic appropriation, the artists either distance themselves from urban reality or consciously carry it to excess. Strategies of transfer, transformation, Sonic Journalism, imagery, of layering and medialising, form the artistic canon of this usage of reality. Urban Sounds presents an exhibition including concerts and talks that discuss these topics by means of current and initialised works from artists from the trinational and global area. 

Guest curator: Julia Gerlach / Director Music, Berlin artist's programme of DAAD

Exhibition
September 21 – November 3, 2013 (Opening: FRI 20.9., 7 p.m.)
Opening hours: WEN – FRI: 5 p.m. – 8 p.m., SAT/SUN: 1 p.m. – 8 p.m.

Event-weekends with concerts, presentations, performances, workshops
September 20-22: Urbanise. City and Sound
October 5-6: Combine. Material and Memory
October 18-20: Mechanise. Space and Time
November 2-3: Globalise. Culture and Politics

Participants:
Gilles Aubry
Seth Ayyaz
Peter Cusack
Elektronisches Studio Basel
Paweł Janicki
Nicolas Maigret
Mahmoud Refat
Walter Ruttmann
Zimoun

A project of «Triptic – Kulturaustausch am Oberrhein»/ Un projet dans le cadre de «Triptic – Echange culturel dans le Rhin Supérieur»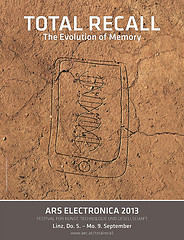 Total Recall – The Evolution of Memory
Ars Electronica 2013
Linz, September 5 to September 9, 2013

This year's Ars Electronica Festival is set for September 5-9 in Linz. The title is TOTAL RECALL – The Evolution of Memory. The festival program will consist, as always, of a splendid array of symposia, exhibitions, performances, interventions and concerts; the details will be announced online at www.aec.at/totalrecall/en over the coming weeks. We will also be publishing in-depth information about participating artists and scientists, and interviews with them at www.aec.at/aeblog/en.

TOTAL RECALL – The Evolution of Memory
Since time immemorial, each successive generation has no doubt pondered how and what the next generation will think about them after they're gone some day. But what factors ultimately determine what and how we remember? What role does remembrance in general play for each of us as individuals, for our families, our society, indeed for all of humankind? And for that matter—what actually is memory? This year's Ars Electronica will bring together neuroscientists and computer engineers, artists and philosophers for an in-depth consideration of TOTAL RECALL and an endeavor to elaborate on how we human beings deal with storing our memories, preserving them, and also, at times, trying to forget. In going about this, the focus will be on three key aspects: (neuro)scientific findings and insights about what memory actually is and what meaning it possesses for our consciousness and our identity; the various cultures of remembrance and the diverse storage media used in the past and the present; and future forms and methods of conserving memory.

About the Ars Electronica Festival:
Since 1979, the Ars Electronica Festival has been coming to grips with reciprocities at the interface of art, technology and society. Symposia, exhibitions, performances, interventions and concerts variously elaborate on a specific theme chosen each year on the basis of its importance and timeliness. Another signature element of this conclave is the consistent effort to put on events in extraordinary, unconventional settings. Linz's Danube harbor infrastructure, tunnels cut into the city's rocky hills, monasteries and cathedrals, factories and mills, and a downtown parking deck are a few of the venues at which Ars Electronica has staged its annual discourse amidst the public sphere. The jam-packed festival line-up features hundreds of artists, scientists and hightech insiders from all over the world. It's produced by Ars Electronica, a wholly-owned subsidiary of the City of Linz, and co-produced by the ORF – Austrian Broadcasting Company's Upper Austria Regional Studio, the Brucknerhaus concert hall and the OK Center for Contemporary Art.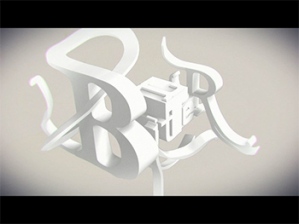 An exhibition at the ZKM | Museum of Contemporary Art
Opening: Fri, November 15, 2013, 7 p.m., admission free!

www.xmlab.org/schriftfilme

Through multiple digital possibilities, script can go beyond its function in the mediation of information and is increasingly gaining an autonomous, aesthetic status. Analog or digitally based films or film fragments are referred to as script films, whereby moving, animated, graphically designed and, above all, script set to sound play the main role.

The exhibition "SCRIPT FILMS" leads to places in which we encounter moving script: artistic productions, but also feature films, advertising, music videos or media facades in cities. The project "SCRIPT FILMS" represents an attempt to compile, typologize and publically present classical popular as well as lesser noticed and frequently difficult to access script films from twenty countries dating from 1895 to the present.

The exhibition enables visitors interactive access to script films: they can select the films and the kind of performance themselves. The exhibition is arranged as a mobile archive. The presentation at the ZKM provides insights into cultural and media developments, offers retrospectives and diagnosis of the present, but also outlooks into the media future, not least in the interactive media.

The project "SCRIPT FILMS" is collaborative project between the ZKM | Center for Art and Media Karlsruhe and the Experimental Media Lab (xm:lab) at the Saar Academy of Fine Arts, FACT Foundation for Art and Creative Technology Liverpool and Goethe Institutes worldwide. The project was sponsored by the Kulturstiftung des Bundes.

Program
Saturday, Dec 14, 2013, 3 p.m.: Artist Talk with Timm Ulrichs and Gunzi Heil
ZKM_Media Theater, Admission free, in German
This event takes place in cooperation with Literarische Gesellschaft e. V. / Museum für Literatur am Oberrhein, Karlsruhe [Literary Society Association / Museum for Literature at the Upper Rhine, Karlsruhe].

Curators: Prof. Dr. Bernd Scheffer, Dr. Christine Stenzer, Dr. Soenke Zehle, in cooperation with Prof. Peter Weibel

Reduced admission! If you visit both our exhibition "TYPEMOTION. Type as Image in Motion" and the exhibition "Zeichen. Sprache. Bilder − Schrift in der Kunst seit den 1960er Jahren [Signs. Language. Images. Type in Art since the 1960s] at the Municipal Gallery in Karlsruhe, you will receive upon presentation of your admission ticket a reduced admission to the each other's museum! This applies for the period from Nov 16, 2013 to Jan 12, 2014.

Photo: Johannes Vogt »Bitterschön«, Deutschland 2008, Poetry Clip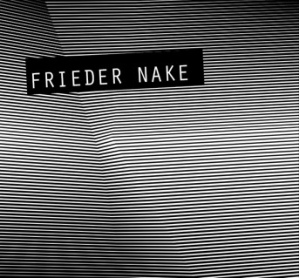 Licht ins Dunkel
25 x 50 Jahre Computerkunst

Die Ausstellung zeigt Werke von Frieder Nake und ihre analogen und interaktiven Interpretationen, die von befreundeten Künstlern, Schülern und Studierenden hergestellt wurden.

Eröffnung: 15. Dezember 2013, 18 Uhr
mit Redebeiträgen von
Prof. Dr. Wulf Herzogenrath (Akademie der Künste Berlin)
Dr. Ingmar Lähnemann (Edith-Russ-Haus für Medienkunst Oldenburg)
Prof. Dr. Heidi Schelhowe (Universität Bremen)
Prof. Dr. Andrea Sick (Hochschule für Künste Bremen)

Ausstellung: 15. Dezember - 28. Dezember 2013
Galerie der HFK
Dechanatstraße 15
28195 Bremen (Domsheide)
Mo-Fr: 11-18 Uhr
Sa: 11-16 Uhr
So: geschlossen