Petra Cortright is one of the most successful artists of the group identified with Post-Internet art. She came to prominence for her video vvebcam (2007) and other similar works posted on YouTube, in which she plays with an amateurish aesthetic and the persona of a "cam-girl." Since the early 2010s, she has gradually shifted to creating digital paintings by combining images and brushstrokes in the digital imaging software Photoshop.
Website of Petra Cortright:
www.petracortright.com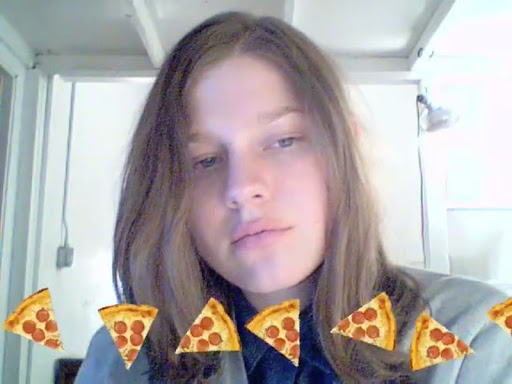 Santa Barbara, CA (USA), 1986
Petra Cortright attended the California College of the Arts, San Francisco between 2004 and 2006, completing her studies in Fine Arts at the Parsons School of Design, The New School, New York, in 2008. Still a student, she attracted the attention of media outlets, art critics, and journalists with vvebcam (2007), a webcam video posted on YouTube in which she looks at her computer screen and tests different digital effects. The artist added a series of keywords to the video that included banal and offensive terms, and engaged in heated discussions with commenters. Because of the use of such keywords, the artwork was removed by YouTube in 2010 and has been later reconstructed and stored in Rhizome's Net Art Anthology. In the following years, Cortright came to be known for a series of similar videos which led her to gain recognition in the contemporary art world. In 2012, the contemporary art magazine Artforum featured her work in an article by Bruce Sterling, who described her as a "twentysomething Millennial cam-girl." The next year, her video RGB, D-LAY (2011) was offered at the Paddles ON! auction, organized by the online platform Paddle 8 and the auction house Phillips in New York. This auction received considerable attention from the media, which contributed to generate interest on her work and that of other young artists such as Rafaël Rozendaal or Addie Wagenknecht. Also in 2013, Cortright was selected to participate in the Frieze Art Fair in London with her video Bridal Shower (2013), and in 2014 she collaborated with fashion designer Stella McCartney creating several videos in which she modelled McCartney's designs.
While Cortright's success in the contemporary art world was initially fueled by her videos and her "cam-girl" persona, her work gradually shifted to digital painting, which has established her name in the art market. At the Paddles ON! auction, her digital prints were more successful than her videos. This was also true for other artists who sold both digital prints and video or web-based artworks in a sale where, according to journalist Marina Galperina, buyers seemed more interested in works that were similar to painting. Cortright's digital prints later became part of regular auctions at Phillips, reaching considerably high prices as her work gained greater attention among collectors, particularly Stefan Simchowitz, who has been a prominent supporter of the artist since the beginning of her career. Her digital paintings, created by meticulously layering images and brushstrokes in the digital imaging software Photoshop, have become the most identifiable output of her work, leading journalist Charlotte Jansen to describe her as "the Monet of the 21st Century." Cortright currently combines digital painting and video in a series of works that display the process of creating her compositions.
Petra Cortright has been represented by the Steve Turner Contemporary art gallery (Los Angeles) and later on by Foxy Production (New York). Her works are in the permanent collections of The Museum of Modern Art, New York; The Péréz Museum, Miami; Los Angeles County Museum of Art; Hammer Museum, Los Angeles; Moderna Museet, Stockholm; MOCA Los Angeles; Rhizome's Net Art Anthology; MOTI, Breda, in collaboration with Stedelijk Museum, Amsterdam; MCA Chicago; Kadist Foundation, Paris, San Francisco; BAMPFA, Berkeley, CA; San Jose Museum of Art, San Jose; MOCA Los Angeles; and Rhizome's Net Art Anthology, New York.
---